Press release from XR Surrey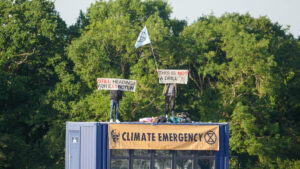 Extinction Rebellion activists have infiltrated the UK Oil & Gas oil production site in Horley, Surrey, to highlight the fact that oil is over – it's time for a green recovery.
Extinction Rebellion environmental protectors are today occupying the UKOG site at Horse Hill. The activists breached the site's security and are currently within the compound, preventing work commencing. A further two activists are locked on at the entrance, blocking access to the site. During the COVID-19 crisis, pollution and greenhouse gas emissions have plummeted along with the price of oil – today's action calls on the UK Government to seize on this opportunity, to stop funding oil and gas extraction in the UK and to invest in a green recovery.
In 2019, both the UK Government and Surrey County Council (SCC) declared a climate emergency. Yet in September 2019, SCC granted Horse Hill Developments Ltd, a subsidiary of UKOG, a licence to extract oil for 20 years, adding an estimated 10 million tonnes of CO2 into the atmosphere. This is totally incompatible with ensuring a safe future for generations to come and is not the only negative effect of the site.
Since the oil at this site is 'tight oil', meaning it is trapped in the shale rocks, unconventional extraction methods are needed to extract it. These methods may involve strong acids and chemicals being pumped into the wells at high pressure, risking groundwater contamination. Meanwhile, the uncontrolled methane released as a result of this type of extraction is a potent greenhouse gas many times stronger than CO2. This form of extraction relies for its profitability on drilling lots of wells close to each other to maintain a certain level of production, according to UKOG's chief executive, Stephen Sanderson, who wants to see thousands of wells across the Surrey and Sussex Weald.
SCC is currently considering planning permission for another site at Dunsfold and UKOG has a further application pending on the Isle of Wight.
Chris, one of the activists inside the site, said: 'We are now at a crossroads in the human story. We can either return to the same path and "business as usual", knowingly condemning humanity and the entire planet to suffering and ultimately extinction. Or we can take a new path and have a chance of heading off the worst. I am here on behalf of my nieces and nephews and all future generations to say it has to be worth trying. Let's change our paths together – this is the last chance we have.'
'The COVID-19 crisis has resulted in the tragic loss of lives and livelihoods. Yet it has also shown another world is possible. As cars have cleared from our roads and planes from our skies; the planet has been given breathing space. This could be a golden opportunity for the Government to stop funnelling money into environmentally destructive industries and to channel funds into renewable sources of energy and a green economy, benefiting both people and the planet. Oil is over – we need to build back better.'
Notes
Activists weighed up carrying out this action against risk to themselves and others, in light of the COVID-19 crisis. They are maintaining social distancing as far as possible, and all are wearing PPE. They will give the police a finish time for the action, so nobody is forced into the position of needing to work within two metres of them.
Oil is becoming dirtier and riskier. 10 million tonnes of CO2 are forecast to be released due to extraction at Horse Hill, with the increased likelihood of fugitive emissions of methane – a potent greenhouse gas – and other risks, including groundwater contamination.