Press Release from A Voice for Leith Hill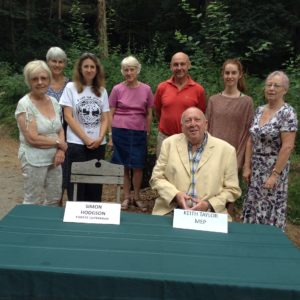 Green MEP Keith Taylor joined local campaigners at the Leith Hill proposed oil drill site to call for Forest Enterprise to start discussions about giving up leasing the land to an oil company.
Keith Taylor had invited Simon Hodgson,  chief executive of Forest Enterprise and the Forestry Commission (1), to discuss offering the lease to A Voice for Leith Hill (2), rather than Europa Oil and Gas. The lease runs out in September.
Mr Hodgson declined, saying: "I see no benefit in having a meeting on site or indeed elsewhere."
He was represented at the meeting by an empty chair.
Keith Taylor said: "People have the right to question why a public body with explicit environmental and climate change commitments continues to engage in a commercial partnership to allow climate-destructive drilling in the Surrey Hills Area of Outstanding Natural Beauty.
"We will make sure he gets the message loud and clear: the Forestry Commission getting into bed with the oil and gas industry is a dereliction of the organisation's public duty."