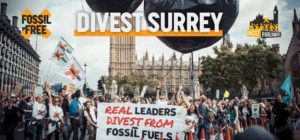 Join the fight to free Surrey from its harmful investments in fossil fuel companies!
Divest Surrey, Surrey Federation of Green Parties and Divest Parliament have joined forces to host a free skill share workshop in Guildford on Saturday 26 May.
They'll be sharing techniques, tricks and strategies to convince local MPs and Councillors to back divestment and get their support for investing in a clean energy future.
As well as free snacks, you can expect to:
• Get to grips with the exciting divestment movement and our work in Surrey
• Learn about effective ways to build relationships MPs and Councillors
• Concoct ace plans to engage MPs and Councillors across Surrey about divestment
The workshop takes place from 11am-1.30pm on 26 May, at Beverley Hall Community Centre, 71 Haydon Place, Guildford, Surrey, GU1 4ND