The Appeal Court ruled today that Surrey County Council did not act unlawfully when they gave planning permission for 20 years oil production at Horse Hill.
It was not a unanimous judgment: one of three judges agreed with campaigner Sarah Finch and intervenor Friends of the Earth that the Council should have considered the full climate impacts of the development, including the 'downstream' greenhouse gas emissions that will be produced when the oil extracted at Horse Hill is eventually burned.
However the other two judges disagreed and the appeal was dismissed.
'Inevitable' threat to climate
The appeal centred on whether the Environmental Impact Assessment used as part of the Council's decision-making process should have considered the full climate impacts of the development, including greenhouse gas emissions arising when the oil produced at the site is ultimately used. The Council had initially recommended the developer include these emissions in the Environmental Statement, but subsequently allowed them to confine the assessment to emissions from the site itself.
All the judges agreed that it is 'inevitable' that oil produced at Horse Hill will will eventually undergo combustion, and that that this will cause greenhouse gas emissions.
Sarah Finch had brought the case on behalf of the Weald Action Group, an umbrella for local groups campaigning against the extraction of oil and gas in the South of England.  She said: "I'm dismayed by this judgment – but reassured it was not unanimous. The fact that even senior judges can't agree on whether these 'downstream' emissions should be assessed in the planning process shows that we need legal certainty on the issue. How can planning authorities be expected to know what to do when even judges don't agree?
"Every tonne of carbon dioxide emitted will make the future situation worse – and more than 10 million tonnes could be produced as a result of this development. I am taking legal advice on the prospect of an appeal to the Supreme Court."
The costs of the legal campaign were raised by a crowdfunder appeal and fundraising drives by supporters.  National campaign group Friends of the Earth joined the legal case as an intervenor on Sarah's side.
Opposition to the plans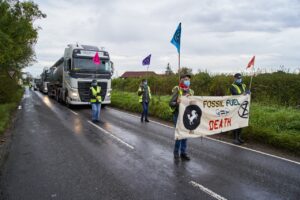 The plans to drill at Horse Hill have met with opposition at every stage. The local Residents' Association, and people from Surrey and beyond objected to the plans and campaigned against them.
Horse Hill has been a focus for non-violent direct action for several years and has seen high-profile protests by Extinction Rebellion and others. Rebels have locked on across the gates, occupied a drilling rig and held slow walks in front of tankers heading for the site. All this despite an injunction being in place to prevent protests which meant those taking action risked contempt of court as well as the usual charges. A number of arrests were made over the course of the campaign.
Venetia Carter, an Extinction Rebellion activist who was arrested at a Horse Hill protest in 2020, said: "This was a tragic missed opportunity to stop new fossil fuel developments in the UK. But we refuse to give up. Now this legal process has failed to deliver a safer future for us, non-violent civil disobedience against new fossil fuel developments will be our best hope against the climate catastrophe that is fast approaching."