Mole Valley residents turned out in force in Dorking on 8 November to hear about the oil drilling threats across the area.
They showed strong support for the people from all over England who have set up a camp on nearby Leith Hill to protect it from drilling.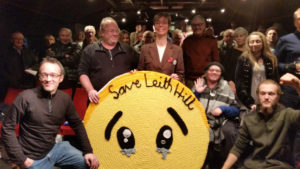 Although the Leith Hill drilling has been allowed to go ahead by the Planning Inspectorate, many pledged to stop it going ahead.
Julian Everett, of the Voice for Leith Hill Group, said: "The basic truth is that oil drilling on Leith Hill is just wrong. We're fighting this campaign because sometimes people, whose job it is to protect places like Leith Hill, get lost and forget themselves. It's up to the rest of us to ensure that treasured national assets remain protected and safe."
Fracking expert Ian Crane told the audience that in Australia drilling had started with just one conventional well, before fracking was needed to exploit deeper gas reserves, contaminating thousands of hectares. He said: "This is an environmental war. The gas industry sees the Weald as an almost open door. They think opposition will be a minor irritation. The key to stopping this is the many-headed hydra – community group next to community group."
Jared from Lancashire, who is camping at the oil drilling site, said: "This is a problem that spans the north of England and the Weald. We will live on this land and prevent the oil lorries coming in. The camp is a focal point for people to come and visit."
Notes:
Europa oil and gas, which has permission for an 18-week exploratory drill on Leith Hill, has said drilling is due to start this winter. It has recently applied for permission to erect a security fence and still needs permission from Surrey County Council for its traffic management plan, which would bring over a thousand HGV movements to the narrow Coldharbour Lane.
View Ian Crane's film 'Voices from the Gasfield' here 
The meeting was organised by Mole Valley and Epsom and Ewell Green Party and the Voice for Leith Hill Group