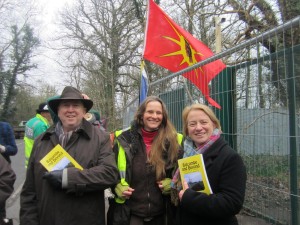 Green Party Leader Natalie Bennett and South East MEP Keith Taylor visited the Horse Hill drill site in Surrey, to show their support for the local community and their opposition to new fossil fuel exploration.
Natalie Bennett said, "I came here to support the protection camp. It's clear that it's growing fast and winning local support.
"And this isn't just a local issue – it's an issue about our climate.
"We know we should be stopping consuming fossil fuels when we already have to leave about two thirds of known reserves in the ground. Yet we are subsidising fossil fuels by £400 per person per year. We should be investing in renewable energy and energy efficiency."
Read Keith's message of support, sent on 20 February 2016, here: http://frackfreesurrey.com/keith-taylor-mep-message