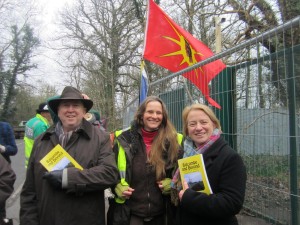 Keith Taylor, Green MEP for South East England, has sent a message of support to those gathering at Horse Hill today for the solidarity walk and cycle ride.
"My apologies that I can't join you in Horley today, but I'd like to thank you all for being here to stand up for our communities and our environment.
"The reported discovery of large quantities of oil at Horse Hill has been the source of significant concern to those living in the area and further afield. These concerns are justified – not least because UKOG have not given sufficient assurances that they will not use unconventional techniques to extract the oil.
"The scientific consensus on climate change has never been greater and we have been told that the only way we have a chance of averting catastrophe is by leaving large reserves of oil in the ground.
"If the UK Government is to meet its climate change targets set under EU law and commitments made only recently at climate talks in Paris, we must shift our focus to renewables and leave these fossil fuels in the ground.
"The UK has enormous renewable energy potential – and we have seen evidence that people in Surrey and across the South East have the passion, willingness and know-how to create clean, people-powered energy in spite of the Government's onslaught.
"The extraction of oil at Horse Hill not only risks damaging our local environment and health, it is a distraction from the work that must be done to build a sustainable future based on a clean, democratic energy system.
"Today, you the campaigners at Horse Hill, are the modern-day defenders of our planet. Thank you and well done!"