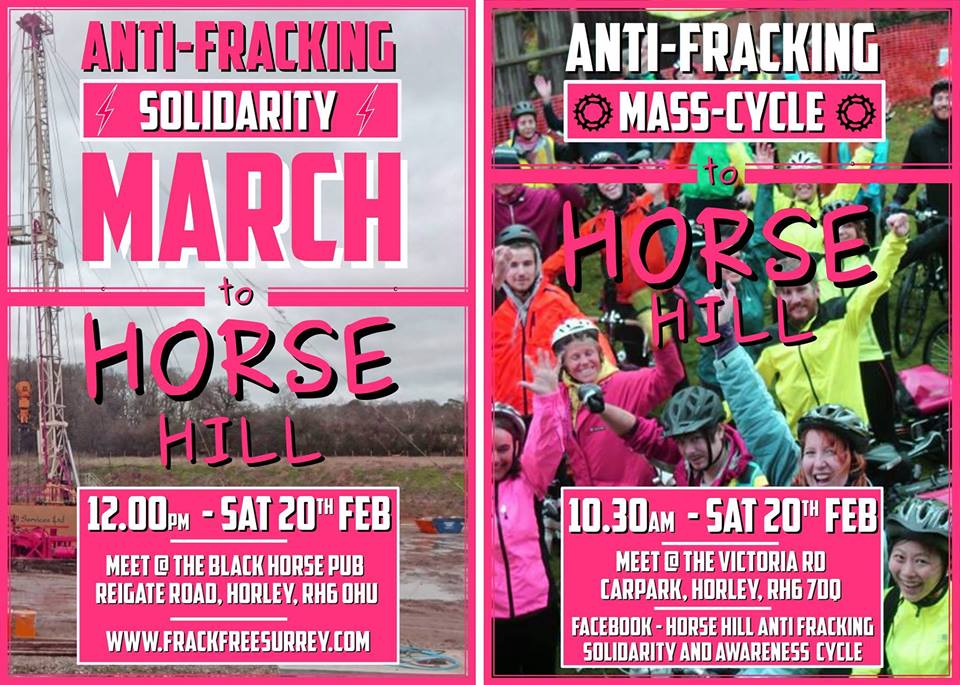 Come and join in a Solidarity March or Cycle Ride to the Horse Hill drilling site, on 20 February.
It will be a colourful, upbeat, positive event, to demonstrate our strength of feeling on the need to honour climate commitments and leave oil in the ground.
Climate campaigners will cycle from London, Brighton, and points in between, meeting at 10:30am at the Massetts Road/Victoria Road car park, Horley, RH6 7DQ
Walkers will meet at 12 noon at The Black Horse, at the junction of Reigate Road and Horse Hill, Hookwood, RH6 0HU
Together we will all process up Horse Hill to the site to take a stand against fossil fuel extraction and call for clean energy.
You can sign up at the Facebook event pages:
Why now?
Horse Hill Developments Limited has begun 'flow testing'  at the site, to establish whether there are significant reserves of oil there. If they find oil in the Kimmeridge (shale) layers, this would require fracking or other unconventional methods to extract it, with attendant risks to air and water and the local environment.
Scientists say that to avoid hitting a catastrophic climate tipping point, we need to keep 80% of all known fossil fuels in the ground. There is no justification for seeking to drag the last dregs of dinosaur fuel out of the ground. Now is the time to switch investment into renewable energy.
The cycling events are organised by Time To Cycle, which mobilises cyclists to take direct action on climate change.