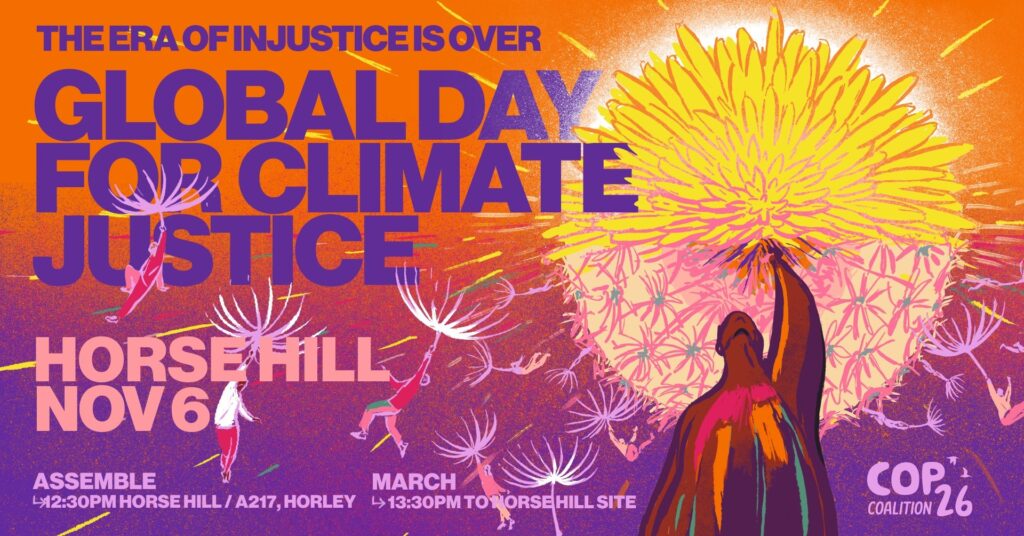 Surrey campaigners will hold a rally near the Horse Hill drill site on 6 November as part of a Global Day of Action on climate justice.
A collaboration of climate campaign groups, Horse Hill Protection Group and friends, invites you to join this peaceful protest to say 'Keep It In The Ground: No New Fossil Fuel Investments Or Infrastructure'!
Meet at the junction of Horse Hill with the A217 (opposite the Black Horse pub) at 12.30pm to hear a few short speeches, then walk up to the drill site at 1.30pm. See this page for travel details.
We will highlight the hypocrisy of the UK government which is going to court later in November to defend the decision to allow 20 years of commercial oil production at Horse Hill – at the same time as trying to present itself as a climate leader at the COP26 climate summit in Glasgow. (Find out more about the Horse Hill legal case here)
And we will show support for movements across the world fighting for climate justice – all demanding real climate action and system change that comes from the ground up.
Please come and bring Horse Hill-relatedbanners and placards. As there are horses and other animals close to the route of the march, please do NOT bring drums, whistles or anything that could startle them.
If you can assist in any way with stewarding, teas or coffee or publicising this event, please contact cop26.horsehill@gmail.com
This Facebook page will be updated with details of speakers and travel advice.