Press Release from A Voice for Leith Hill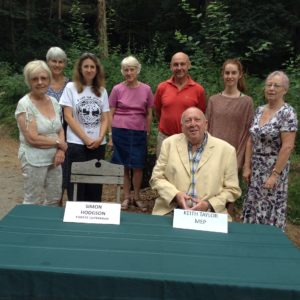 Green MEP Keith Taylor joined local campaigners at the Leith Hill proposed oil drill site to call for Forest Enterprise to start discussions about giving up leasing the land to an oil company.
Keith Taylor had invited Simon Hodgson,  chief executive of Forest Enterprise and the Forestry Commission (1), to discuss offering the lease to A Voice for Leith Hill (2), rather than Europa Oil and Gas. The lease runs out in September.
Mr Hodgson declined, saying: "I see no benefit in having a meeting on site or indeed elsewhere."
He was represented at the meeting by an empty chair.
Keith Taylor said: "People have the right to question why a public body with explicit environmental and climate change commitments continues to engage in a commercial partnership to allow climate-destructive drilling in the Surrey Hills Area of Outstanding Natural Beauty.
"We will make sure he gets the message loud and clear: the Forestry Commission getting into bed with the oil and gas industry is a dereliction of the organisation's public duty."
Pat Smith from A Voice for Leith Hill said: "It's devastating for the local community that the Forestry Commission keeps renewing this lease for oil drilling which will have huge environmental impacts. We've proposed raising funds to take on the lease when it runs out, but the Forestry body won't even come and talk to us about using the site for a much better community purpose".
Lucy Barford of Mole Valley and Epsom and Ewell Green Party said: "Oil drilling contributes to carbon emissions and the kind of climate changes we're already experiencing. It is of no benefit locally and has been the focus of huge opposition. The Forestry Commission is a public body and yet we're being denied access to the site and even the chance of talking to them about our plans."
Notes to editors
Forest Enterprise England is the executive agency of the Forestry Commission (FC) that manages the nation's forest estate for the UK government.
A Voice for Leith Hill is a community group committed to raised awareness and campaigning against the proposed oil drilling on Leith Hill. www.voiceforleithhill.co.uk