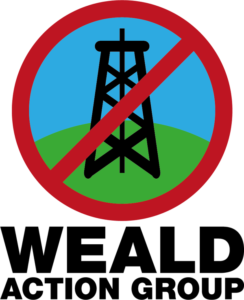 Press release from the Weald Action Group
MEDIA PHOTOCALL: 9.30am on Monday 19 March outside the Rolls Building, 7 Fetter Lane, EC4 A 1NL
Weald residents: Join us outside the High Courts, from 9.15 am. Bring a slice of rural life into London – Banners, placards and wellies, waxed jackets, and a mug of tea welcome. 
Campaigners from across the South East of England will be attending the High Court in London on Monday 19 March to challenge attempts to introduce an injunction that seeks to severely curtail fundamental human rights.
UK Oil and Gas (and its family of companies) [1] has applied to the High Court for an injunction which would, if granted, effectively stop any campaigning that affects its ECONOMIC interests. It seeks to prevent lawful activity "where the predominant intention is to injure the claimant's economic interests". The draft injunction names only "persons unknown".
Weald Action Group spokesperson Lorraine Inglis said: "This is an attack on our human rights and freedom of expression. It would have a chilling effect on lawful protest and campaigning right across the South East. UKOG have admitted that 'this kind of oil deposit very much depends on being able to drill your wells almost back to back' — they have admitted that their plan is to industrialise our landscape. Campaign groups must remain free to raise awareness of this threat.
"Criminal law already exists to deal with unlawful activities. An oil company should not be permitted to use their wealth to define what is legal and what is not in terms of peaceful protest, whether it be 'cake at the gate' or lobbying contractors. This injunction must be fiercely resisted."
The challenge is being brought on behalf of campaigners and will be represented by civil rights lawyer Michael Oswald and his team at Bhatt Murphy solicitors.
The Hearing is due to start at 10.30 and is scheduled for two and a half hours.
[1] UKOG has sites in Surrey (Horse Hill) and Sussex (Broadford Bridge and Markwells Wood) which are mentioned in the injunction; plus a 40% interest in the Leith Hill (Surrey) Europa site and on the Isle of Wight.