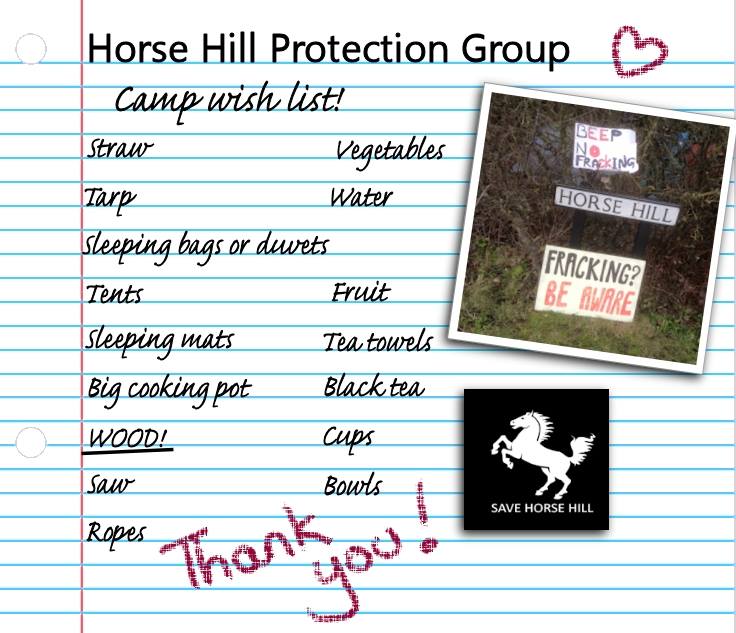 Protectors have established a camp at Horse Hill. They are at the drill site all day every day, recording traffic movements, monitoring what goes in and out, raising awareness of what's happening and standing up against fracking and fossil fuel dependency and for clean energy.
Please visit to help the protectors or just give moral support. And if you can take anything from the wish list, that would be very much appreciated.
The camp is in the copse by the verge opposite the Black Horse pub, on Reigate Road, Horley, RH6 0HU. Please park safely and don't inconvenience the neighbours.
The Protectors say:
"The Horse Hill borehole was drilled in 2014, now they are "flow testing". Here in the Weald they are looking for tight oil (inc shale oil).
"What none of the operators will say down here in the South is that following the exploration stage, there will be fracking… so the 'f' word is not being used at all. This creates confusion for both local residents and the campaign, and is exactly what the gov / industry are hoping for.
"The legal definition of hydraulic fracturing has been manipulated in the Infrastructure Act to further facilitate this charade.
"UKOG (UK Oil and Gas) have an interest in lots of sites all across the Weald and Isle of Wight now.
"What they have stated regarding this area is that there's an 'estimated' 271 million barrels of oil here, and about 16 million is 'conventional'.
"Unconventional hydrocarbon exploitation, necessitates particularly polluting and seismically dangerous fracturing techniques."