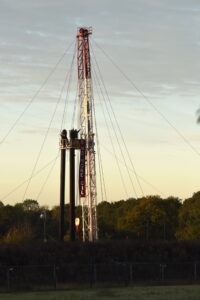 Two fathers in their 50s have occupied a drill rig at the Horse Hill site, in protest at the plans to scale up oil production at the site.
According to a press release from Extinction Rebellion, the two men entered the site in the early hours of this morning (10 October), using an access ladder to climb the rig to a platform approximately 15 metres above the ground. They have hung a banner from the rig saying "No More Oil" and are refusing to come down from the platform.
No More Oil
The 32-metre high rig was recently brought onto the site. According to a statement by UKOG it is being used as part of a workover "to further optimise oil flow" and to "pump at a deeper level". This follows a decrease in the amount of oil that the company has been able to extract according to the latest official figures.
One of the activists, Alistair Sandell, a horticulturist from Uckfield, said: "I am a father with a young family. I work hard full time. Having grown up and lived in this beautiful landscape of hills, streams and woods I was shocked that unconventional oil extraction would be permitted here. After years of unsuccessful, polite objection I now feel I have no other choice than to take direct action before our water is poisoned further beyond return directly affecting my children's health and future."
This protest is the latest in a series of actions at the site over the last twelve months including slow walks, activists lock-ons across the site gates and occupying containers within the site. The protests aim to highlight the continued oil extraction at the Horse Hill site despite the declaration of a climate emergency by Surrey County Council in July 2019.
Legal challenge
The judicial review of the Horse Hill planning permission brought by local campaigner Sarah Finch will be heard in court in November.
Sarah won permission to bring the case at the Appeal Court in July.  Her lawyers will argue that Surrey County Council has failed in its obligations to assess the indirect greenhouse gas impact of the use of oil produced from this development, as well as to properly consider the environmental objectives of the government's Net Zero carbon target before granting planning consent.
Read more about the legal challenge