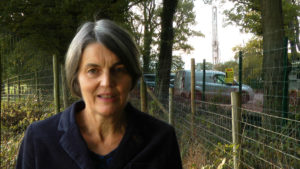 A local campaigner has launched a Crowdfunder appeal to raise funds for a judicial review of Surrey County Council's decision to allow massive expansion of oil drilling at Horse Hill in Surrey.
Sarah Finch is looking to raise £25,000 to cover legal costs.
She says, "Like many other people, I wrote objections to the plans for four more oil wells and 20 years of production at Horse Hill. So I was dismayed when the planning committee ignored our well-researched objections.
"The decision to allow 20 years of oil production was wrong.
"It was wrong because of the climate emergency. 20 years takes us way past the time when we need to have stopped using fossil fuels like oil. It was wrong because of the earthquake risks in this vulnerable area – and Surrey County Council refused to look at the evidence on this, saying it wasn't their responsibility. And it was wrong because Green Belt countryside is no place for industrial development.
"That's why I am seeking a Judicial Review of the decision now."
Ms Finch, working with others from the Weald Action Group, has secured a team of leading environmental and planning lawyers, including barristers Marc Willers QC from Garden Court Chambers, Estelle Dehon from Cornerstone Chambers, and solicitors from Leith Day.
She said, "Our lawyers are working for a fraction of their usual fees but even so, fighting through the courts costs money. I hope that local residents and people concerned about climate change will donate what they can. Together we can get this very bad decision overturned, and make sure Surrey and other planning authorities look at all the implications of oil and gas drilling in future."
Visit the Crowdfunder appeal:
https://chuffed.org/project/support-surrey-oil-legal-challenge