Press release from Brockham Oil Watch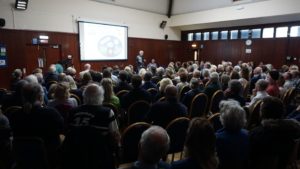 Over 150 people, including a number of local councillors, attended a public meeting on earthquakes and unconventional drilling in the Weald Basin on Saturday 18 May at Beare Green Village Hall.
The gathering was organised by community group Brockham Oil Watch and chaired by Max Rosenberg, Chairman of the Mole Valley branch of the  Campaign to Protect Rural England (CPRE).
David K Smythe, Emeritus Professor of Geophysics in the University of Glasgow, delivered the main talk, covering the history of oil & gas exploration in the Weald between 1960-90 versus the current phase led by penny-share companies of questionable competence and integrity, the reasons why he supports the Edinburgh University thesis that the Newdigate earthquakes [1] are induced by activity at the Horse Hill site [2], and recommendations for local residents as well as their elected representatives.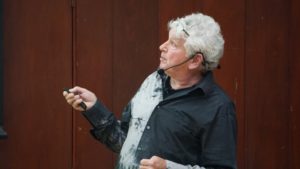 Professor Smythe criticised the authorities and the operator for withholding crucial work programme logs from the Horse Hill site, and advised that the precautionary principle should apply halting operations while more research is undertaken. He called for residents to collate systematic data on earthquake damage.
Ada Zaffina of Brockham Oil Watch gave a brief overview of the loophole in the UK regulatory system with regards to acid stimulation, potentially allowing these stimulation treatments to take place under the guise of acid wash. The presentations were followed by a lively Q&A time stretching the duration of the meeting to two hours. Presentation slides are available here. Video recording will be added soon.
Brockham Oil Watch's spokesperson said:
"We are very pleased with the turnout, especially since we were competing with the Eurovision Final and the FA Cup Final. The level and detail of questions and comments from very astute locals and councillors shows deep concern about the earthquakes and the possibility of larger magnitude tremors. We hope that this will embolden more people to speak up about their concerns and demand clear action.
"We would also like to thank everyone involved in the organisation and promotion. This event is a great example of worried communities coming together."
Notes
[1] As of 4th May 2019, 33 earthquakes have been registered in Newdigate, and they are continuing. The strongest tremor measuring 3.1 ML was recorded on 27th February 2019. http://www.quakes.bgs.ac.uk/research/SurreyEarthquakes.html
[2] Stuart Haszeldine & Andrew Cavanagh University of Edinburgh: Weald Basin 2018 Earthquake Cluster Analysis – Submission to the OGA workshop on Newdigate Earthquakes. https://editor.ogauthority.co.uk/media/5173/10-weald-basin-earthquakes-induced-oga-workshop-haszeldine-cavanagh-oct-2018-low-res.pdf
About Brockham Oil Watch
Brockham Oil Watch is a non-political group of local residents concerned about the threat of unconventional hydrocarbon extraction from the Kimmeridge Clay Formation (or other unconventional reservoirs) at Brockham, and gaps in the current legislative/regulatory framework. For more information, visit www.brockhamoilwatch.org.