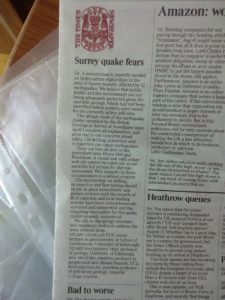 Four leading seismologists and geologists have signed a letter to The Times today calling for a moratorium on hydrocarbon exploration in the area hit by 12 earthquakes. They have also written to the Business and Energy Secretary Greg Clark MP and the heads of the oil industry regulators in the same terms.
The four, who all have expertise in the hydrocarbon industry, are:
Stuart Gilfillan FGS, Senior Lecturer in Geochemistry at School of GeoSciences, University of Edinburgh
Stuart Haszeldine OBE FRSE C.Geol. Professor of Geology at School of GeoSciences, University of Edinburgh
Bill McGuire, Emeritus Professor in Geophysical & Climate Hazards, Dept. of Earth Sciences, UCL
Richard Selley CGeol, Emeritus Professor of Petroleum Geology, Department of Earth Science and Engineering, Imperial College, London
The letter reads.
"A moratorium is urgently needed on hydrocarbon exploration in the area of Surrey recently affected by 12 earthquakes. We believe that public health and the environment are not being adequately protected given the unstable geology, which had not been identified before permits were issued for the currently active drill sites.
"The abrupt onset of the earthquake cluster recorded by the British Geological Survey at Newdigate since April 1 requires an explanation, and gives rise to our concerns about safety. Oil drilling, extraction and re-injection can cause earthquakes.
"There are two oil sites in the immediate area: Horse Hill and Brockham. A causal link with either well site cannot be ruled out, so we need the full picture for the risk assessment. Well integrity in these circumstances is a serious concern. 
"The moratorium on drilling, re-injection and flow testing should be put in place immediately and remain in force until the records of fluid injection and local faulting activity have been comprehensively surveyed and interpreted, and the triggering mechanism for this quake cluster properly understood."
"We call on the energy secretary and regulatory bodies to address this issue without delay."
Surrey County Council is due to consider an application for a three year oil exploration at Brockham in Surrey this Wednesday (August 8)