Press release from Weald Action Group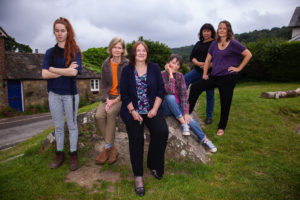 Six women from Surrey and Sussex are at the High Court today (Tuesday 3 July) to defend the right to peaceful protest which is being challenged by UK Oil and Gas (UKOG).
Campaigners from across the South East and London will be outside the Rolls Building, 7 Fetter Lane, London EC4A 1NL, at 1.15pm to support the defendants, adding their voices to the many opposed to onshore oil and gas exploration. 
They will be joined by Green Party co-leader Jonathan Bartley and deputy leader Amelia Womack, supporting the right to peaceful protest.
One of the defendants, Natasha Doane, who lives in Surrey, said: "I am concerned that the injunction, if granted, would be likely to have a serious deterrent effect on local people being able to continue campaigning in opposition to UKOG's activities.
"From reading the injunction, it is very difficult to understand what is covered by the description of 'persons unknown' and how previously legal acts could in the future be considered 'illegal' and in what conditions this would come into effect, and what the consequences would be."
Lorraine Inglis of the Weald Action Group said: "This is a blatant effort to silence peaceful protest. The defendants decided to come forward on behalf of all of us who object to this industry's greedy attack on our environment including a healthy climate.
"These oil companies are trying to change Government policy to fast track their plans through the planning system, at the same time as shutting down the opportunity for opponents to have their voices heard."
Friends of the Earth applied to intervene in the case, as it says its interests as a climate change campaigning organisation, are also affected. It was not given permission to intervene, and has applied to become defendants, subject to a costs protection agreement with UKOG.
UKOG has drilling sites across the South East including Broadford Bridge in West Sussex and Horse Hill in Surrey, both mentioned in the injunction. It also has a significant stake in the proposed drilling site at Leith Hill in Surrey and a planned new site on the Isle of Wight.
The company says it is trying to stop various forms of legal protest that affect its "commercial interests". It follows in the wake of other bans by fracking giants Cuadrilla and INEOS, with a similar aim, which are still the subject of legal challenge.
Although the South East sites are not technically defined as fracking by the government, they involve similar methods like acidisation to access the hard to reach 'tight oil' locked into the shale. Local communities have voiced concerns about the potential risk to groundwater contamination, impacts of air pollution with flaring, problems of HGVs on narrow country roads, and the loss of more countryside to concrete and industrial development.
The CEO of UKOG Stephen Sanderson has said he wants to see "back to back wells" in an industrial production – this includes land in the Green Belt, Areas of Outstanding Natural Beauty and National Parks.
Notes to editors:
Legal team: The injunction will be challenged by Stephanie Harrison QC leading Timothy Baldwin, and Stephen Simblet leading Anna Morris of the Garden Court Chambers Civil Liberties Team, instructed by Michael Oswald of Bhatt Murphy solicitors.
The Weald Action Group supports community groups and individuals affected by onshore oil and gas exploration across the South East