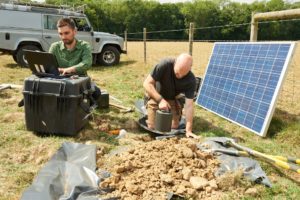 Local campaigners A Voice for Leith Hill and Brockham Oil Watch have welcomed prompt action by the British Geological Survey to install new seismographs near oil drill sites in Surrey.
Two of the earthquake monitors were set up today (Thursday 12 July). They will be used to track earth movements following an unprecedented cluster of eight recent earthquakes near Newdigate.
The British Geological Survey (BGS) said: "We hope to gain a better understanding of this scientific phenomena through the installation of additional stations." BGS also said: "We are unable to say categorically if these earthquakes are related to hydrocarbon exploration or production, mainly because of the uncertainties in our estimates of the earthquake epicentres and particularly depths. Our calculated epicentres for the earthquakes are approximately 4.5km from the Horse Hill well, which is within our calculated uncertainty."
Equipment is on site to conduct a second, extended period of flow-testing at the Horse Hill well site near Gatwick Airport.
A Voice for Leith Hill, Brockham Oil Watch and others, including East Surrey Green Party and the Green MEP Keith Taylor, are calling for a moratorium on oil exploration activities until the earthquakes have been fully investigated.
"Gathering local data is really important," said James Hill, Dorking parent and member of A Voice for Leith Hill. "We don't know yet what started this period of seismic activity, but we know that the permits for the Surrey well sites were all approved before it was understood to be active for earthquakes. More worrying still is the possibility that a seismically stable region may have been turned into an active earthquake zone by some of the processes used by the oil and gas companies."
"Intensive techniques used to stimulate the flow of oil or gas from shale rock are under scrutiny here, as is the re-injection of contaminated waste water. Our geology is heavily faulted yet there are no rules to prevent drilling near these faults."
"Whatever the cause, the regulators of drilling – the Oil and Gas Authority, the Health and Safety Executive and the Environment Agency – should suspend the licences to operate until it is certain that activities at these sites are safe. It is extremely risky to be carrying out any deep underground activities in an area where the geology is unstable," said James Hill.
A Brockham resident, from Brockham Oil Watch, added: "No further planning permissions should be granted for exploration, appraisal or production from hydrocarbon development sites until the current swarm of earthquakes has been fully investigated and a protocol developed to minimise the risk of significant environmental harm from hydrocarbon development activities. All existing hydrocarbon development planning applications should be placed on hold until this protocol has been developed to an acceptable level of detail."
What can I do?
If you are concerned about the earthquakes, there is a lot you can do:
Contact your MP and ask them to call for a moratorium on moratorium on all drilling, re-injection, acidising, flow testing and related activities in the Weald until an investigation has taken place.
– In Reigate constituency (where the Horse Hill drill site is located), your MP is Crispin Blunt, email crispinbluntmp@parliament.uk or write to him at the House of Commons, London, SW1A 0AA.
– In Mole Valley (where Brockham and Leith Hill are), your MP is Sir Paul Beresford, email office@molevalleyconservatives.org.uk or write to Mole Valley Conservative Association, 212 Barnett Wood Lane, Ashtead, KT21 2DB.
Contact your Surrey county councillor and ask them to call for a moratorium on all drilling, re-injection, acidising, flow testing and related activities in the Weald until an investigation has taken place.
Find out more about the campaigns opposing the oil drilling plans in the Weald: At Leith Hill there is A Voice for Leith Hill, Leith Hill Action Group and Leith Hill Protection Camp. At Brockham there is is Brockham Oil Watch. Across the wider area there is the Weald Action Group. All of these have lots of information about the risks of unconventional oil drilling and ways in which you can help.