Le Tour De Frack
Register now!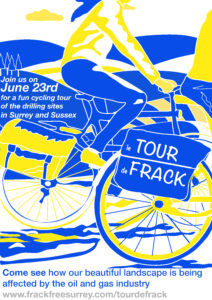 On 23 June 2018 we will be gathering for an 'en masse' cycle tour of areas affected by oil drilling in the South East of England. Sites will include Horse Hill, Brockham and Leith Hill in Surrey and Balcombe in West Sussex.
This will be a fun event with riders of all levels and abilities welcome. You can participate for a small section of the route or make a whole day of it.
The ride will be bright and colourful, with flags and banners to raise awareness and to get our message out 'Clean Energy Now' and 'No to Drilling in The Weald'.
The tour will start from Meadowbank in Dorking at 10.30am. There will be three routes to choose from: 22 miles, 30 miles or 57 miles. Participating cyclists should register at Eventbrite.
For a sneak preview of the routes, go to the following links: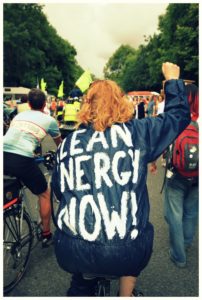 All riders will be issued with the routes plus timings and rest stops on the day.
If cycling is not your thing, please join us instead at 'Greet at the Gates' to cheer the cyclists on and to come together for refreshments, music, fun, games, information sharing and, of course… cake.
Stops will include Brockham Green, Horse Hill and Balcombe (more details to follow). Or join us at the finishing line at Leith Hill Protection Camp, where the event will wind down with food and entertainment. There will even be massage therapists on hand to sooth any aching limbs!
If you're interested in joining the ride, or want to be a part of the day in some other way, please get in touch at tourdefrackuk@gmail.com and visit https://www.facebook.com/events/1629452990496106/
Saturday June 23rd 2018
Le Tour De Frack
Save the date and watch this space
#GreenFieldsNotOilFields