Saturday 23 June 2018
Join us for a cycle tour visiting oil drilling sites in the Weald, South East England.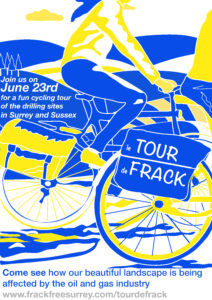 On 23 June 2018 we will be gathering for an 'en masse' cycle tour of areas affected by oil drilling in the South East of England. Sites will include Horse Hill, Brockham and Leith Hill in Surrey and Balcombe in West Sussex.
This will be a family focused event with riders of all levels and abilities welcome. You can participate for a small section of the route or make a day of it.
If cycling is not your thing, please join us instead at 'Gatherings at the Gates' to cheer the cyclists on and to come together for refreshments, music, fun, games, information sharing and of course the obligatory cake.
Details of the routes and timings will be published soon. Save the date and watch this space.
The routes will vary between 16 and 55 miles long. Participating cyclists should register at Eventbrite.
Our West Sussex neighbour Frack Free Sussex will also be hosting a pre-tour banner and flag making session on Saturday 8 June (venue TBC). . Our message will be bright, colourful and clear: 'Clean Energy Now' and 'No to drilling in The Weald'.
If you're interested in joining the ride, or want to be a part of the day in some other way, please get in touch at tourdefrackuk@gmail.com and visit https://www.facebook.com/events/1629452990496106/
More information to follow soon.
#GreenFieldsNotOilFields