Press release from the Weald Action Group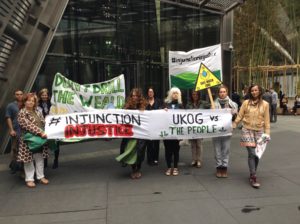 The Weald Action group – an umbrella organisation for those opposing unconventional oil and gas exploration across South East England – is today (24th April) launching a Crowd Justice fundraising appeal to challenge a proposed legal injunction which aims to stop protests against UK Oil and Gas (UKOG) company's exploration sites. (1)
The appeal was launched this morning as UKOG, a company listed on the "Alternative Investment Market", held its Annual General Meeting in London.
Six Surrey and Sussex residents have put their names forward as defendants in the potential injunction which has been condemned as 'draconian' and a 'threat to human rights.'
The Weald Action Group has secured top-class legal representation (2) to challenge the injunction which was sent back to the drawing board by a High Court judge on March 19th for being too 'far-ranging' and the Crowd Justice appeal will aim to pay for this representation.
UKOG have revised their initial draft injunction but many elements that would severely restrict the right to legitimate protest and attempt to control activities on public highways remain. For example, the new draft still proposes that campaigners would not be allowed to 'watch' the activities of the company and its suppliers. Another company, INEOS has similarly sought to restrict protests against its operations in the North of England.
WAG spokesperson Lorraine Inglis said: "The mood of the investors at the AGM seemed quite negative, with questions about poor performance at Broadford Bridge and enforcement at Markwells Wood. The answers seemed unsatisfactory."
Lorraine added: "The injunction is another costly distraction for this troubled company. "
Brenda Pollack, Friends of the Earth South East campaigner said: "We strongly support the stance taken by local people opposing UKOG's attempt to use the law to stifle valid means of showing concerns about oil exploration. This proposed injunction is a serious attack on the rights of local people to protest and campaign against dirty fossil fuel operations."
The Crowd Justice appeal is at www.crowdjustice.com/case/oppressive-oil-injunction/
The High Court hearing is expected to take place over three days this June.
Notes:
(1) UKOG has sites in Surrey (Horse Hill) and Sussex (Broadford Bridge and Markwells Wood) plus a 40% interest in the Leith Hill (Surrey) Europa site and on the Isle of Wight. Part of the draft injunction deals with trespass or rights of way on sites (a similar ban is in place at Leith Hill).
(2) The case will be contested by: Stephanie Harrison QC leading Timothy Baldwin, and Stephen Simblet leading Anna Morris of the Garden Court Chambers Civil Liberties Team, instructed by Michael Oswald of Bhatt Murphy solicitors.