Anti-fracking campaigners found not guilty in Horse Hill trial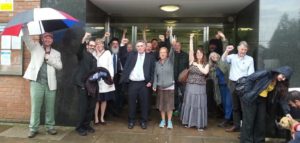 Nine anti-fracking campaigners have been found not guilty of wilful obstruction of the highway following protests outside the Horse Hill exploration site near Horley in the trial at Redhill Magistrates Court which lasted all last week.
The nine had all been arrested for 'slow walking' – making their peaceful protest by walking in front of lorries delivering to the site and leaving – during February and March 2016, while flow tests were being conducted.
The prosecution said that this was an obstruction of the highway. However, having studied the evidence, including footage of the arrests, Judge William Ashworth concluded that the defendants were all walking at a "reasonable" speed, and that their method of protest was not unreasonable or disproportionate.
District Judge Ashworth said, "By and large the protest at Horse Hill can be characterised as a dignified and peaceful protest". He said he was concerned about the deteriorating relationship between police and protesters and said, "It is a shame they [the police] did not reach an accommodation to allow the protests to proceed in a manner that did not require arrests."
This verdict follows not guilty verdicts for slow-walking anti-fracking campaigns in Balcombe, Barton Moss, Crawberry Hill and West Newton. [1]
One of the campaigners, Paddy Horne, said: "I am very happy. The fight goes on. It is very important to nip any infringements [of human rights] in the bud. The defence barristers and Judge Ashworth summarised that this case centred on freedom of speech and it was said we were "speaking truth to power"."
Sarah Finch from Frack Free Surrey said, "The 'not guilty' verdicts are a huge relief for the people involved, and a vindication of the right to peaceful protest. Across the UK, people power is keeping the threat of unconventional oil and gas drilling at bay. We will continue to use our right to peaceful protest to oppose further drilling at Horse Hill."
UK Oil & Gas Investments, one of the companies with interests in the Horse Hill well, has announced it plans to return for further testing this year. UKOG makes no bones about the fact it plans to use unconventional techniques, including multi-well pads, horizontal drilling and acid stimulation, nor that it sees Horse Hill as a gateway to further drilling right across the Weald basin. The company recently acquired a further 300 km sq licence in West Sussex which includes the site at Broadford Bridge.
Read more about the trial and the verdict at https://drillordrop.com/2016/06/17/nine-horse-hill-anti-fracking-protesters-cleared-trial-judge-regrets-arrests/
 ——
[1] Frack Free Surrey understands that of more than a hundred arrests for obstruction of the highway for slow walking vehicles, every person who has defended the charge has been declared 'not guilty'.
Save
Save
Save
Save
Save
Save
Save