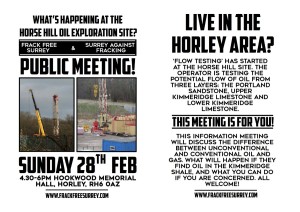 Local residents are invited to a meeting tonight at Hookwood Memorial Hall to find out more about what's happening at the oil site on Horse Hill.
'Flow testing' has begun and we're in the early stages of an 'unconventional' or 'tight' oil exploration, using novel methods to free up formerly inaccessible reserves. As 'conventional' reserves dwindle, the fossil fuel industry is promoting more extreme methods of continuing business as usual, heavily promoted and subsidised by our Government.
The meeting is at Hookwood Memorial Hall, Withy Meadow, Horley RH6 0AZ, from 4.30pm to 6pm, this Sunday 28 February. Refreshments available.
Come along to find out more about the differences between conventional and unconventional oil, and what are the likely next steps at Horse Hill and in the wider area. Representatives of the Protectors Camp will be there to talk about what they are doing and why.
There will be some short presentations and lots of time to ask questions and chat with neighbours and others over tea and cake.
Parking is limited, so please walk if you can.
If you can't come but have any questions, please contact us on info@frackfreesurrey.com
And you can read a blog by one of the Protectors, Becky: www.frackfreesurrey.com/extreme-oil-has-come-to-horley