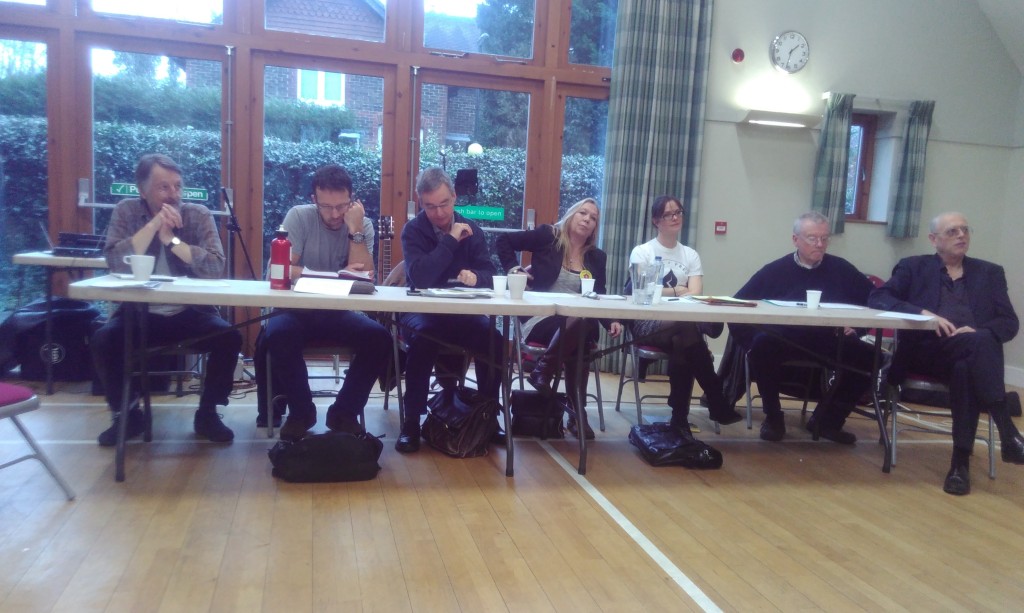 With Surrey in the spotlight thanks to flow testing at Horse Hill, campaigners gathered in Oxted at a meeting organised by Surrey Against Fracking to raise awareness of the threats posed by unconventional oil and gas.
Among the group were people who have been at Horse Hill over the past week. See the end of this article for how you can support them.
A stellar line-up of inspiring speakers addressed the meeting; the speeches were interspersed with short films and followed by discussion, music and refreshments. The speakers covered a wide range of topics, the following are just some key points, and quotes may not be verbatim.
"Not in the national interest"
The keynote speaker was John Ashton, former Special Representative for Climate Change and now a respected speaker on politics and climate change.
John paid tribute to the "heroes" in the room: Tina and the Anti-Fracking Nanas and the Balcombe campaigners, thanks to whom no fracking has taken place in the UK since 2011.  He spoke of the importance of ordinary people campaigning and said, "If they stand on solid ground and speak the truth, the people will prevail." 
John said that the Government's assertion that fracking is "in the national interest" is one of many fraudulent claims:
They claim fracking is important for our energy security. In fact our security would be better served by being part of the global move towards energy efficiency and renewable energy, than by turning our back on the rest of the world and going back to dinosaur fuels.
They claim fracking is important for jobs – but Germany, which now gets 30% of its electricity from solar and wind, has created far more, better quality, more lasting and highly skilled jobs than we will ever get if we shackle ourselves to the transient frontline of fracking.
The claim that shale gas can be a 'bridging fuel' to a low-carbon world is "the most fraudulent of all". 195 governments, including ours, have committed to switch to low-carbon technologies within a generation – this means switching to renewable energy. John said the only people in favour of fracking are those with a vested interest in another cycle of high-carbon energy: "You can't be in favour of fracking and dealing with climate change".
"The most troubling document I have ever seen"
He talked about a letter that Amber Rudd, the Energy secretary, Greg Clark, the Local Government secretary and Liz Truss, the Environment secretary, sent to George Osborne last July, which was recently leaked to Friends of the Earth. The letter sets out proposals a strategy to get "a maturing shale gas production industry" in Britain within 10 years. Plans include taking decision-making powers over fracking applications away from local authorities and giving them to unelected planning inspectors.
John said, "Woven into the letter are a number of troubling assumptions. One is that the job of the regulators is not to protect the public but to facilitate industry…This letter is the most troubling document I have ever seen under the letterhead of the British Government."
He closed by quoting David Bowie: "We can be heroes – but not just for one day, for our time."
"Evidence of harm"
Helen Savage from Balcombe told how when fracking company Cuadrilla arrived in their village, she and her neighbours did their own research and discovered that there is plenty of evidence in scientific papers that fracking has caused harm to human health, animals and the environment.
Helen dispelled some of the other myths that pro-frackers use. It's not true that fracking has been happening in the UK for decades: modern high-volume hydraulic fracturing is "about as similar to old-fashioned fracturing as a hypermarket is to a corner shop". And far from having 'gold standard regulations', the regulations intended to protect people and the environment are inadequate and not enforced. Neither the Environment Agency nor West Sussex County Council proved able to spot or stop Cuadrilla's many breaches in Balcombe.
Tina Rothery from Blackpool (near the only well that has so far been fracked in the UK) stressed that she had never wanted to be an activist, but was drawn into the fight against fracking because of her concern for her granddaughter and everyone's grandchildren.
She advised that campaigners put aside other differences and focus on the one thing that brings us together: "We are all in this together as we all need water and air… We are all NIMBYs – the back yard is where our kids play." And she said that if we can't influence the Government, we can deter investors by showing how difficult it will be to overcome resistance to fracking.
Low return on investment
Dr Damien Short, a social scientist at the University of London, spoke of the importance of considering the EROI: the energy return on investment. Unconventional oil and gas have very low EROI (in the case of tar sands, one barrel of oil spent yields only six to eight barrels, compared to sixty to eighty in conventional systems). This makes them a spectacularly bad choice at a time when we already have to leave 80% of all known reserves in the ground.
Damien and his colleagues study testimonies of people affected by extreme oil and gas developments. While individual stories can be dismissed as 'anecdotal', by collating and studying large numbers of them, social scientists are amassing data that demonstrates that extreme energy breaches human rights. There is now a Permanent People's Tribunal on the human rights impacts of fracking.
Charles Metcalfe said that while the Government talks a lot about regulation, in fact environmental regulations are being weakened.
The 2015 Infrastructure Act changed the law of trespass to allow drilling 300m under your property without even having to tell you. And while it initially excluded the most sensitive areas – National Parks, Areas of Outstanding Natural Beauty and Sites of Special Scientific Interest, this has now changed and fracking is now allowed under National Parks and Areas of Outstanding Natural Beauty. The Act rules out fracking under Zone 1 Water Protection Areas but allows it under areas that feed into those zones.
Charles said, "We do have wonderful home-grown sources of power in the sun, wind, rain and moving water. We shouldn't be meddling with what's under the ground. We've seen the damage it's caused in the US and Australia. But we are going to be made, as taxpayers, to pay for the ruination of our countryside and the possible poisoning of our air and water."
 Neil Pitcairn, Greenpeace's voluntary campaigns organizer for Surrey, urged those living in Tandridge to respond to the Council's consultation on its future development strategy. As well as commenting on issues such as housing numbers, Green Belt release and transport, residents can comment on Tandridge's future energy policy, and argue for decentralized, locally-owned renewable energy as the basis for future energy in the district.
"This is your chance to do something"
Everyone was urged to do whatever they can in the fight against extreme energy and for a clean energy future.
Peter Whittick, who has been at Horse Hill, said more people are needed there: to help observe what is entering and leaving the site, to engage with the police and passers-by, and help in whatever way they feel able.
Helen Savage suggested that those that can't get to Horse Hill write brief letters to local and national papers. Short letters (200 words or less), based on a recent event or topical story, are often published.
If you live in Tandridge, respond to the consultation on the Local Plan: http://www.tandridge.gov.uk/Planning/planningpolicy/emergingpolicy/localplan.htm