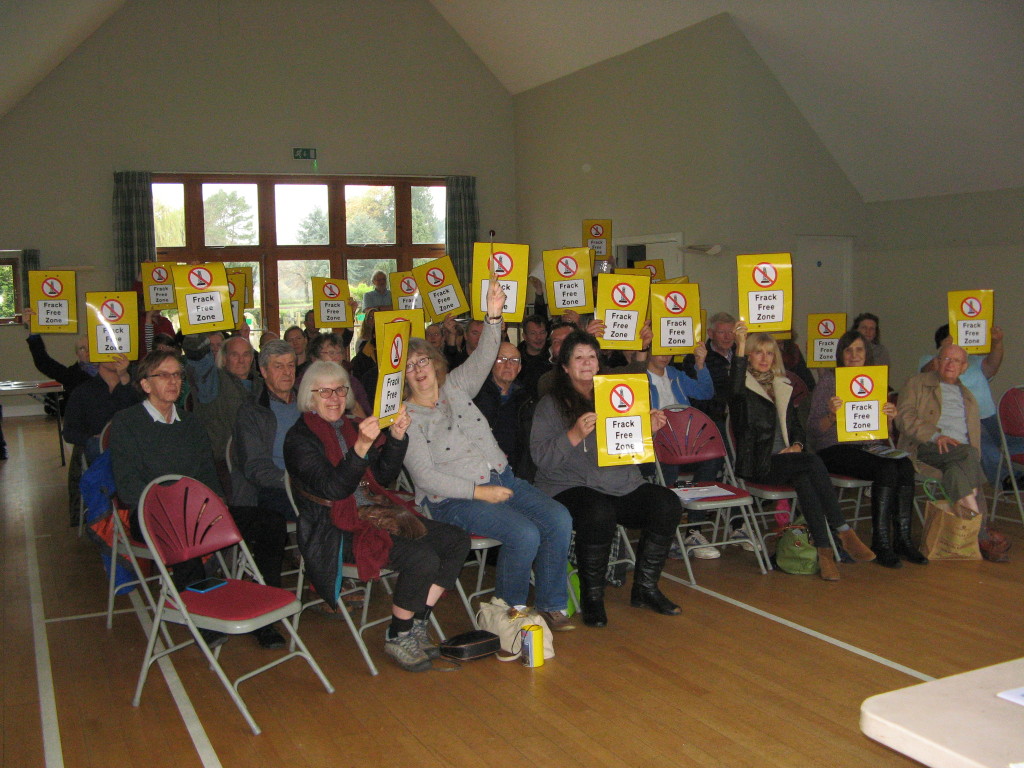 More than 70 people turned out on a rainy Saturday in Oxted for a great community meeting on fracking.
As well as a couple of short films, we were treated to a series of informative and inspiring short talks.
Brenda Pollack, the South East Regional Campaigner from Friends of the Earth, who supports many local anti-fracking groups across the region, gave a brief introduction to what fracking is and why many people oppose it due to  the risks of air and water pollution. She pointed out that research shows that unconventional wells are four times more likely to fail than conventional ones and that research coming in from countries where fracking has been happening is showing that there can be health impacts. 
"Take climate change seriously"
Rob Basto from Frack Free Surrey spoke about the impacts of climate change around the world, including droughts in Africa and California, forest fires in Australia, and a tripling of extreme weather events worldwide. He said that world temperatures have so far risen by one degree Celsius since the industrial revolution, but could go up by two degrees or more if we don't switch to a different energy path quickly. Rob outlined the threats, including reduced food production, leading to wars and starvation, and said, "We clearly need to take climate change seriously – we're in a dangerous situation but it's our children and grandchildren who will suffer the effects in this country. We've got huge renewable resources – we can switch to renewable energy." He stressed that we should object to conventional oil wells, not only those that involve fracking.
Myths dispelled
Helen Savage from Balcombe told how when fracking company Cuadrilla arrived in her village, she did her own research and quickly saw that the industry, the government and the media were all spinning myths. She then exposed some of the most commonly cited myths – for example that 'fracking has been happening here for years'. In fact, only one well has been high-pressure fracked in the UK; that was Preese Hall, which caused an earthquake. Comparing old-fashioned fracturing with the modern technology is like comparing a corner shop to a hypermarket.
Another myth is that 'UK has strong regulations which mean fracking is safe'. Helen cited several examples of how in Balcombe, the regulation was not robust. The flare stack is lower than the village, meaning that fumes from the stack would blow straight into people's homes and gardens. Villagers had to buy their own noise monitoring equipment before the authorities would bother investigating their complaints. Heavy lorries drove past the school, which was not allowed in Cuadrilla's permit. The Health and Safety Executive never even visited the site. She said, "Even when fracking is done properly, there will be impacts"
Helen pointed out that while much of the discussion nationally is about fracking for gas, in Balcombe, and probably elsewhere in the Weald Basin, the target is oil, which is why acid stimulation is used. She said, "They will tell you that they're 'not fracking' – but stimulating a well with acid for oil is a growing problem in America. It is still likely to be unconventional: involving cluster drilling and multi-well pads with long laterals; radioactive flaring; radioactive waste; fluid containment issues; compressor stations; noise of drilling flaring and pumping and heavy industrialisation.
"In the end, we have to ask ourselves: do we want to be living in an oil field, be it fracking, unconventional oil or conventional? Do we want to see half of Britain industrialised to create energy from fossil fuels when the evidence is clear that renewables can and must be the answer."
Fracking bans in Europe
Oxted resident Phil Davies listed the various locations nearby that are covered by Petroleum Exploration and Development Licences (PEDLs), the first step in the process of being able to drill. At Leith Hill, Europa Oil and Gas recently gained permission to drill for oil at a planning appeal and at Horse Hill, near Horley, Horse Hill Development Limited has applied for permits to flow-test the well it drilled last summer. Phil spoke about the threats of air and water pollution and pointed out that France has banned fracking, Germany has put tight restrictions on it and the Netherlands has a moratorium on the technology. Meanwhile our Government, looking to replace the revenues it used to receive from North Sea Oil, is going it alone in Europe in supporting the fracking industry.
Dangerous chemicals
In the following discussion, a number of interesting points were raised.
Lawrie Dunn, a chemical physicist and Balcombe resident, answered questions on the chemicals used, and resulting pollution risks. He said that in Balcombe (where flaring has not yet taken place) the flare only has to be monitored for a few compounds, including NOx and VOCs, but not for others, for example polycyclic aromatic hydrocarbons, which are serious cancer-causing compounds. He said that the flare stacks do not compare with those on waste incinerators, which are much higher and hotter than those used on oil and gas drilling sites.
He said that a particular concern is the proposal to use hydrofluoric acid, which will react with rock to produce some very dangerous compounds.
UK "left in the dust"
John Ashton, a former Special Representative for Climate Change who worked for three successive UK Foreign Secretaries, said that at one time, the UK Foreign Office's diplomacy-led approach to climate change was widely admired. He spoke of his dismay at the current Government's dismantling of the system of targets and incentives that had been put in place, and said, "We are now being left in the dust. Our government is saying we need fracking for energy security but it's nonsense – low-carbon technologies are transforming the economies of other European countries".
Petition to Surrey County Council
The meeting ended with a commitment to continue to strongly oppose fracking or unconventional oil and gas exploration and exploitation in Surrey, and everyone was encouraged to sign and share a petition to Surrey County Council asking them to ban all fracking in the county.
Sign the petition here: http://petitions.surreycc.gov.uk/Fracking
Forthcoming events
Climate Sense: Fossil fuels, divestment and renewables
25 November, 7.30-9.30pm, Dorking Christian Centre, Church Street, Dorking RH4 1DW
Amelia Womack, Green Party Deputy Leader, and Peter Sims, Guildford Young Greens, will speak at this meeting, organised by Mole Valley and Reigate and Banstead Green Party branches.
We will be discussing the campaign to get Surrey County Council to take its money out of fossil fuels (7% of its pension fund is invested in fossil fuel companies including BP and Shell). The meeting is free to attend and all are welcome. Register here http://www.segreens.com/climate_sense_surrey
The People's March for Climate, Justice and Jobs
London 29 November, 12pm-3pm
Join the biggest climate march ever planned in the UK. As politicians set off for the Paris climate talks, our demands need to be ringing in their ears: No to dirty energy; yes to renewables and climate jobs; justice for those affected by climate change.
Find out more about the march: http://climatejusticejobs.org.uk/